Kathi Hoffmann | Founder of THE GOOD RUN
Posted by JOHN HANSEN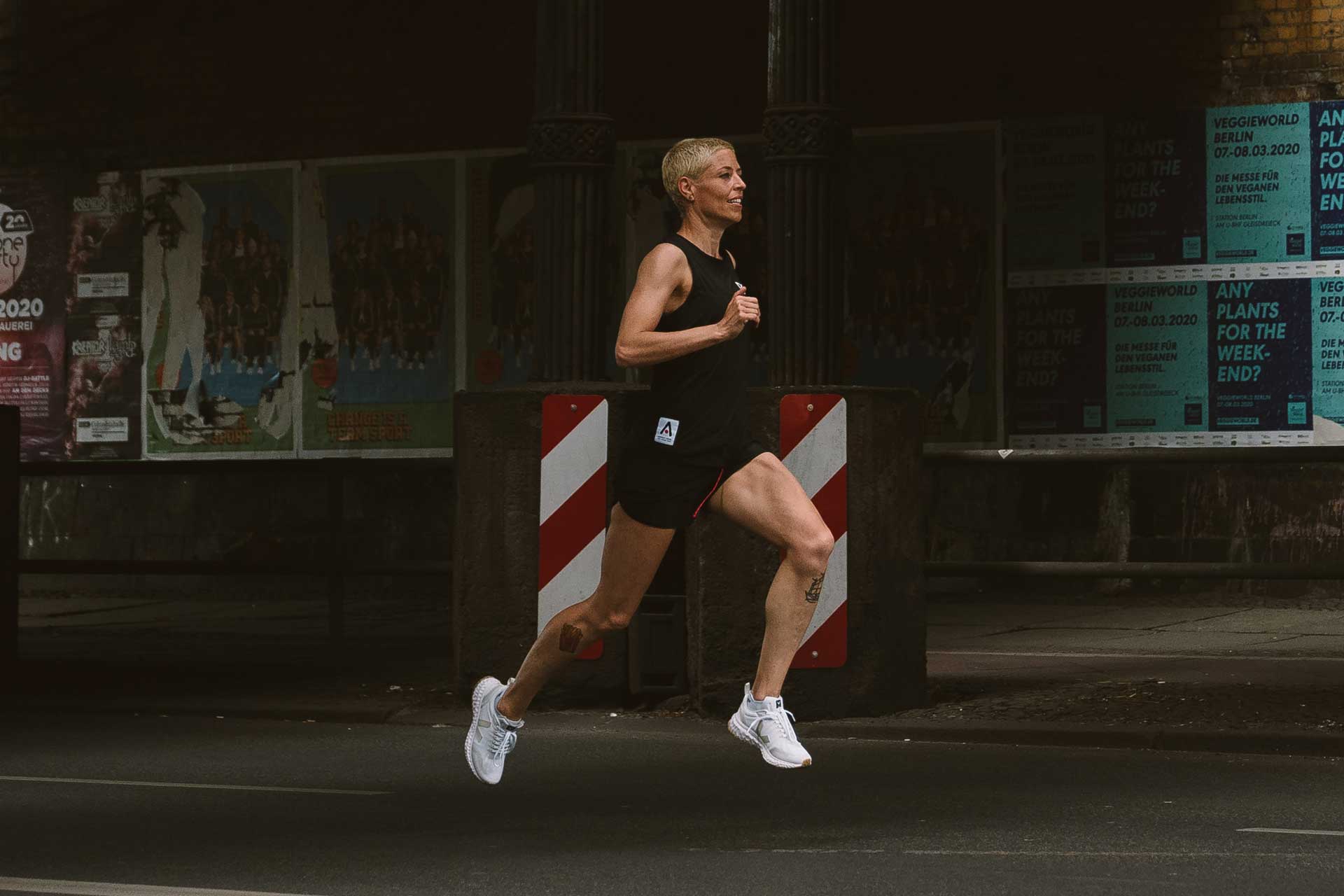 A strong and powerful woman! After being part of one of the first Nike running crews, The Graviteam Berlin, she was co-founding Run Pack Berlin and later on hand picked to start up a new Adidas running community - Adidas Runners. Today she is back with her friends from Run Pack Berlin and have launched a new online store - THE GOOD RUN. An online shop and a community for sustainable, responsible and great running gear. Meet the runner Kathi Hoffmann. 
- Kathi Hoffmann
- Founder of THE GOOD RUN
- Berlin, Germany
- IG handle @thegoodrun_eu, @katharinahoffmanm
When did you start running for the first time and how was your experience?
"I joined the Track & Field team elementary school and ran up until High School. After a long break of many years and two kids I "found" running again through one of the first Nike running crews, The Graviteam Berlin, in 2011. Suddenly, running had changed to something that felt more like nightlife than exercise. We met for 6-10K runs at 8PM with a bunch of people I really wanted to hang out with and stayed for food and beers afterwards. I remember the first time I went for Wednesday run; on my way home I was already eager for next week. A few months afterwards I ran my first half marathon in the first Bridge The Gap race in Berlin. Crews from Copenhagen, Paris, NYC, Amsterdam were there and Charlie Dark held one of his famous pep talks. It felt like I was part of something and important and fun. I have not stopped running since and met like-minded people from all around the world through this movement."



How does running affect your life?
"Together with some friends, we founded the running crew Run Pack Berlin back in 2013. I was still working in the fashion industry, but really hated my job. As more and more brands started contacting our crew I saw a chance of making running my full-time job but I did not know how. My first attempt was to get a trainers license and later started as a pacer for the Nike Run Club in Berlin. A year afterwards I got an offer from Adidas to start a running community (which later became the Adidas Runners). Last year during the first lockdown me and some friends I met through running started THE GOOD RUN - the first online shop for responsibly made running gear. I can definitely say that running has changed my life - not only professionally."
What is your favorite running pass?
"My favorite running pass used to be hill sprints together with my team Run Pack - up the 400m hill on Weinbergsweg in Berlin Mitte, where we tried to keep up with the Tram. These days - especially after a year of running alone with no training plan - I really started to enjoy taking my dog Eddie out for a 10K on the northern outskirts of Berlin."
Which person on Instagram inspires you?
"I love @voltvomen; they celebrate women in sports, give them visibility and draw attention to abuses and unfair treatment. We need more of those accounts and less self-promotion without meaning."
Do you prefer to run alone or do social runs and why?
"I prefer to run with other people so much more. It seems as if kilometers just fly by while we chat and laugh on long runs. Also hard track workouts are much easier to endure when you have others next to you to share the pain and smile at each other after each lap. I also go running by myself - but never more than 10-12K max."
Do you listen to music while running? And if you do, can you recommend a favorite track?
"I ran the 100K "Race to the Stones" with 60 other women from the group WMNRUN in 2015. On my last few kilometers, someone past me and played "Don't stop me now" from Queen on their phone. I will never forget that moment when I realized that I will actually finish ( I had only run one marathon before this). It is kind of cheesy but the song will always put a smile on my face and remember me how strong I am. It is on all my running playlists, even though I mostly listen to female Punk songs when I run alone."
If you could go for a morning run with anyone in the world, who would it be?
"If I could choose a morning run, it would not be one specific person. I would choose to meet 40.000 runners at the starting line of Berlin Half. I really miss the feeling of common excitement - whether you're running for a PB or pacing a friend." Collection 2019 Sale 70% Off Title for image