Simon Freeman | Publisher and Editor of Like the Wind magazine
Posted by JOHN HANSEN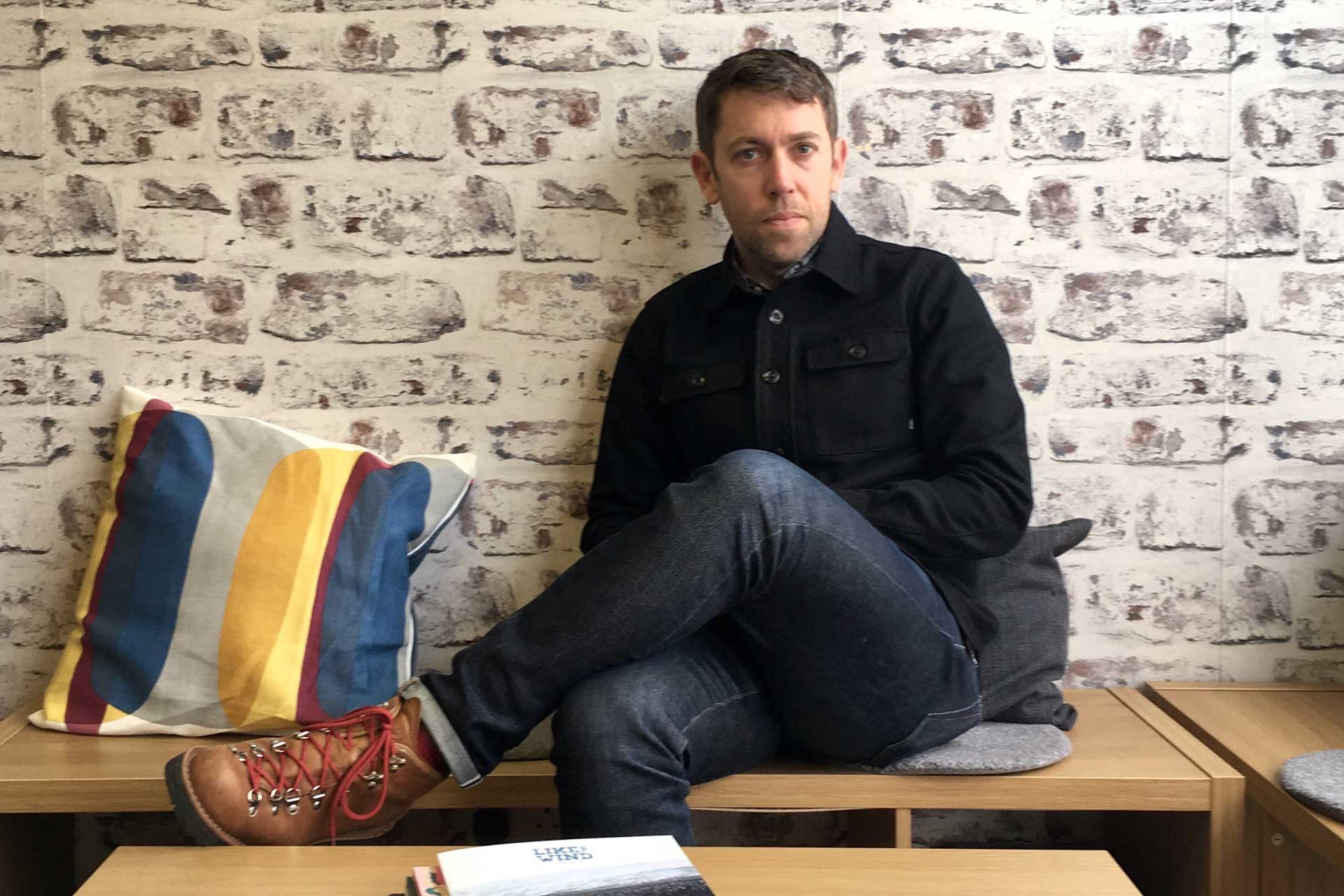 It is never too late to start running - and from day one it can change your everyday life in many aspects. This is what happened when Simon Freeman, editor and publisher of running magazine Like the Wind, started running at the age of 30. 
- Simon Freeman
- Publisher and Editor of Like the Wind magazine
- Switzerland and London
- IG handle @likethewindmag
When did you start running for the first time and how was your experience?
"I started running in 2005. Until that point I had really no interest in exercise. My Dad had been a boxer before I was born and he still trained like one when I was growing up. I didn't want to compete with him - he was too big and strong - so I turned away from almost all sport , except what I was forced to do at school. Instead I found drinking, smoking and partying much more to my liking. That was the pattern through University and the start of my working life. Right up until before my 30th birthday. One morning, the day before Christmas in fact, I realized that I was incredibly unhappy - I was in a bad relationship, doing a job I hated, in dept, overweight and very, very unfit. I knew in a single moment that I needed to do something immediately. So I quite smoking that morning. Then I started eating better. Drank less. I got a bike and used that instead of public transport. And then one day in Spring I thought I'd go for a run. I had friends who were runners and of course my Dad, who ran like Rocky in the movies. So I thought I knew what to do, which I obviously didn't. But I still really wanted to lose weight and get fit. So a few days later I tried again. It still felt terrible, but a little less so, which was good enough."



How does running affect your life?
"Running has really transformed my life. After a few months of running a few times a week I decided to enter a race - a 10K - in a park in central London. I was horrible slow, but I loved it. So that really started my journey. I was really just curious about how far and fast I could go. After a while, I became fixated on the idea of running a marathon. Which I did. And then I got fixated on running one as fast as possible (the answer to that is 2:37:07). During that time I met my wife. We were soon running together, exploring the Alps, racing marathons side-by-side. I was fitter then ever and in a great relationship. The next thing to fix was my work. So my wife and I talked about setting up a business together. And of course we wanted that to be linked to the thing we loved - running. So that is how we came to set up a marketing agency for endurance sports brands, called Freestak, and launching Like the Wind magazine. "
What is your favorite running pass?
"It is very difficult to say where my favourite running place is. I actually love my regular 7K loop that starts and ends at my front door. This is my daily meditation and exercise and stress release. But then again, I love exploring new places, whether that is a new city or a different area of trails. For example where I am right now, in the foothills of the Jura mountains, there are hundreds and hundreds of kilometres of trails to explore."
Which person on Instagram inspires you?
"This is a bit of a cheat, but I really admire the work Mario Fraioli does at the Morning Shakeout (IG @theamshakeout). He is on Instagram, of course, but I think his real magic is telling stories through his podcast and newsletter. Really what I admire about Mario is his ability to get people to open up and tell their stories in a candid and moving way. I'm obsessed with the power of stories and Mario is one of a handful of people I know who really add to the culture of running through the stories they share.
For pure visual gold I love the work of Brenden Clarke (IG @brenden.jpeg). His photographs have appeared a number of times in Like the Wind and I'm always blown away by what he captures."
Do you prefer to run alone or do social runs and why?
"This depends. Most of the time I run alone. I have some great bluetooth headphones and I love podcasts. But when I find I'm a bit stressed, running without anything in my ears is such a great way to decompress. So I'm really happy on my own. Having said that, I'm a very social person, so whenever possible I love to run with other people. I remember clearly the first sessions with the athletics club I joined in London a few years after I started running. There was a group all focused on trying to break 3 hours and we'd train really hard together week in week out. After a while we'd almost all hit that magic number and the next target became trying to run faster than 2h 45m. I really enjoyed the camaraderie and competition that came from running in that group. Later, I became close friends with Charlie Dark, the founder of RunDemCrew in London and I'd go and run with them - huge groups, roaring through the streets of London. That was immense fun."
Do you listen to music while running? And if you do, can you recommend a favorite track?
"My introduction to running with music was thanks to my wife, Julie. This was back in the days when we had Ipods with the navigation wheel on the front and wired headphones. One day I was really struggling to find the motivation to get out for a run so my wife suggested I take her iPod and listen to a playlist that she had created for her runs. I was blown away! I ran only of my usual routes and was faster by a significant margin. My wife and I are both big fans of all sorts of jazz and the playlist was a collection of really fast Japanese jazz tunes. It was like audio doping. So now I tend to run with a podcast when I am on an easy run, nothing if I want to tune into my thoughts or music if I want to really push."
If you could go for a morning run with anyone in the world, who would it be?
"If we're talking about famous people - for someone alive, it would be Malcolm Gladwell because I think he is a master storyteller and also a diehard athletics fan (and I've been trying to get him to work on a piece for Like the Wind with me since we started, so I would try to convinced him as we ran!). If I could run with someone no longer with us, it would undoubtedly be Emil Zatopek. I am fascinated by his life, not just in terms of running. I believe he was a truly amazing person and it must have been an incredible experience to meet him. But really I'd be very happy going for a run with my wife and a couple of close friends, on the trails on a sunny day." Collection 2019 Sale 70% Off Title for image